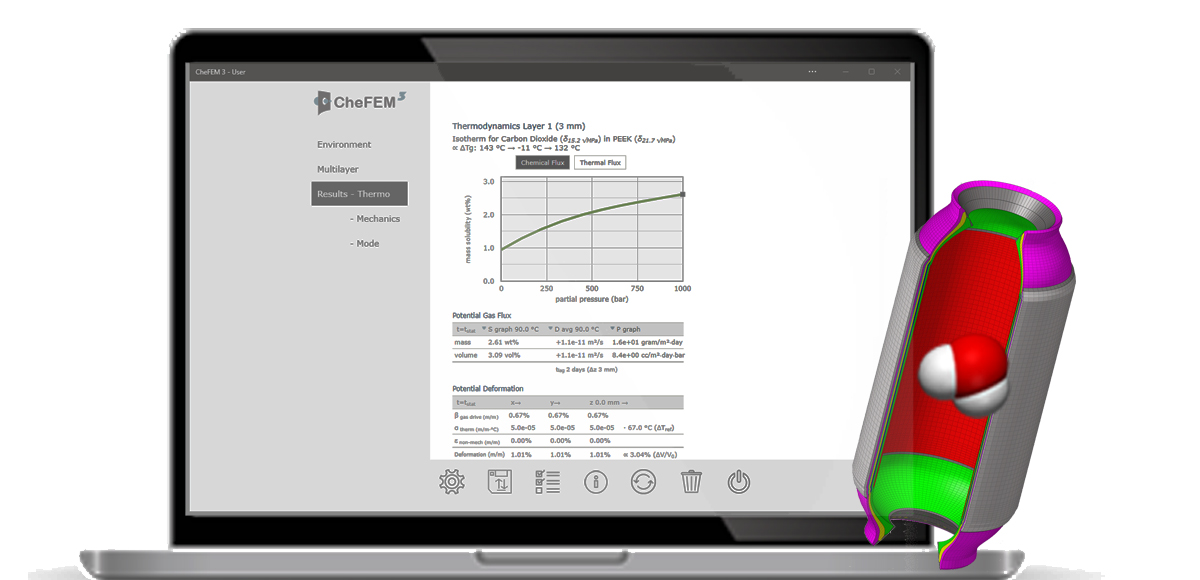 THE LEADING TOOL FOR CHEMICAL EXPOSURE SIMULATION
About CheFEM
The generic software package applies calibrated Sanchez-Lacombe Equation of States and Finite Element Methodology (FEM) to quantify chemical potential and exposure effects on polymers and their composites. CheFEM can be installed as a stand-alone tool as well as "chemical exposure plug-in" to other mechanically oriented FEM packages, such as Abaqus and Ansys.
Output Features
■ Chemical/Mixture Permeation
■ Exposed Stiffness & Strength
■ Fugitive Emission Module
■ Annulus Condition / Annular Leaks
■ FEM Loads & Constraints
■ Chemical-Thermal Spiking
■ Rapid Gas Decompression
■ Chemically Driven Failure Modes

System Features
■ Build-in Sanchez-Lacombe EOS's
■ Build-in Group-Interaction EOS's
■ Build-in 8 node FEM engine
■ Abaqus API, Ansys API, Excel API
■ Matrix Mechanical Data (MMD)
■ Advantageous annual license plan
■ In use by industry leaders

License
CheFEM users include Nasa, Shell, Hexcel, Boeing, Strohm, Saudi Aramco and Future Pipe Industries.
Shortlist Publications