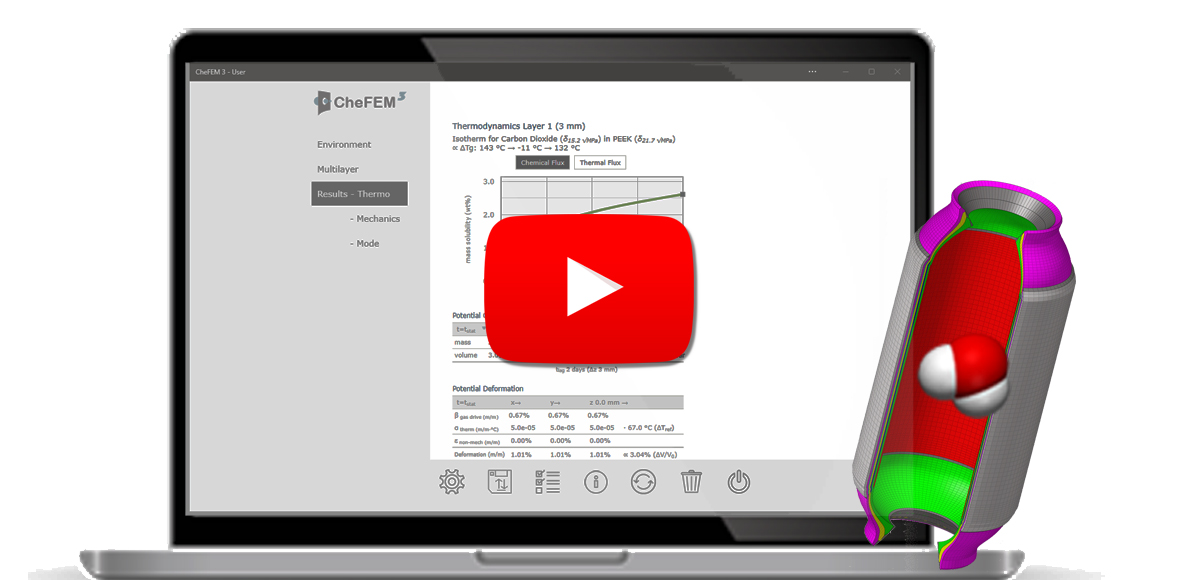 LEADING DESIGN TOOL FOR CHEMICAL EXPOSURE ANALYSIS
CheFEM 3 Software
The CheFEM App is a leading design tool used for the virtual analysis of chemical exposure effects on polymers and their composites. Its core code utilizes the calibrated Sanchez-Lacombe Equation of States and Finite Element Methodology (FEM). CheFEM can operate as a standalone application or seamlessly integrate as a 'chemical exposure plug-in' with other widely-used mechanically-oriented FEM packages, such as Abaqus, Ansys and SolidWorks.
Output Features
■ Chemical/Mixture Permeabilityn
■ Exposed Stiffness & Strength
■ Fugitive Emission Module
■ Annulus Condition / Annular Leaks
■ FEM Loads & Constraints
■ Chemical-Thermal Spiking
■ Rapid Gas Decompression
■ Chemically-Driven Failure Modes

System Attributes
■ Calibrated EOS (SL, GIM, R-K)
■ Built-in 8-node FEM Mesher
■ Abaqus API, Ansys API, Excel API
■ Matrix Mechanical Data (MMD)
■ Modern App - No Local Install
■ Automatic Weekly Code Updates

Annual License
CheFEM users include Shell, Nasa, Boeing, Strohm, Victrex, Hexcel, Solvay and BMW.
Shortlist Publications